PRESS RELEASE
New:
Rosemary George's August blog: http://tastelanguedoc.blogspot.co.uk/2013/08/les-trois-terres.html
Medals - Written Press - Wine Guides - Other Media Coverage
Medals
xx
Decanter World Wine Awards 2011: Bronze Medal: La Minerale 2008:

"Rich, sweet fruit with black pepper and herbal spice. Big, round, structured palate with cacao and mint notes".
Also a Commended Medal for the Saut du Diable 2009.

Web site: www.decanter.com
Gold Medal, International Wine Challenge 2009, London (Trois Terres 2007, Languedoc Reds Category) :

For the first time, in 2009 we submitted one of our wines to a blind wine tasting, the renowned International Wine Challenge in London, and were flattered to win a Gold Medal for the 2007 Trois Terres Grenache/Syrah blend. The judges said: "This is a very exciting example of grenache from the Herault, with lots of raspberry, white pepper and spice flavours and elegant structure with floral but fine tannins".
Web Site : www.internationalwinechallenge.com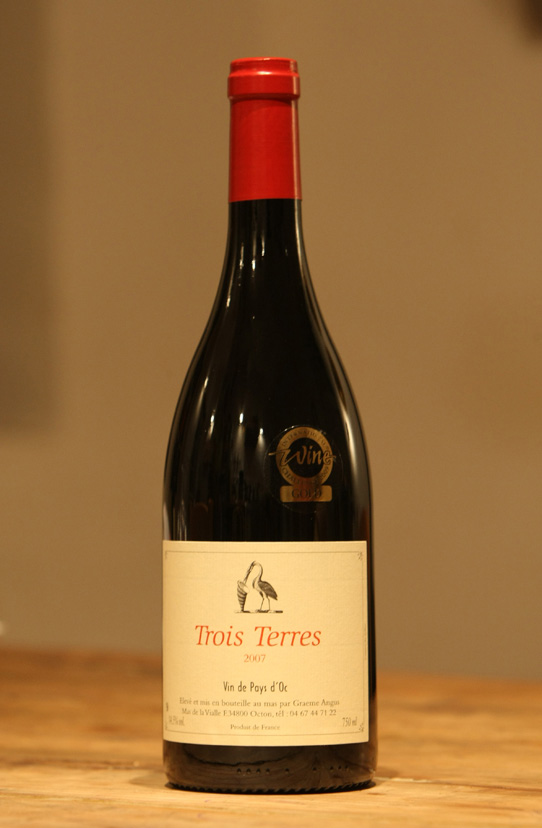 Written Press
Sunday Telegraph
Sunday Telegraph article of the 1 st November 2009 :
Web Site : www.telegraph.co.uk


Terre de Vins
Spring 2009 :
"With its heady floral nose heavy with lily, blueberry and fresh bay, the first impression of this Vin de Pays d'Oc (9 Euros) is surprising. The spirit of voluptuousness is confirmed by a flamboyant palate of cherries, aromatic essences, fresh spices, Zan, a shisty minerality, and fine-woven tannins. Mixing Grenache from Cabrières and Syrah from Saint Jean de la Blaquière, Graeme Angus explores a little further the possibilities of the terroirs (principally schists) that he has chosen for his Octon-based domaine".

Autumn 2008 :
"The doctor is in the cave" : Still in Octon for the cave, but with the vines elsewhere, that is indeed why the domaine is called "Trois Terres" : vines in Cabrières, Saint Jean de la Blaquière, and soon no doubt in Octon. Graeme Angus, as his name suggests, still has a slight British accent. As a haemotologist in London, he got it into his head to make wine as early as 1998, and went to Australie to train in viticulture and oenology. And therefore it was only natural that he should pass on bicycle in front of Mas des Chimères one day and say to himself: "there's a guy who looks like he might need a hand". He immediately adds : "of course I couldn't have achieved anything without him" [Guilhem Dardé]. Having said that, he was keen to make the most of a variety of terroirs to pursue his passion for syrah, à l'anglaise, with lots of weeds, "because I like grass and keeping the soil alive, never have touched a drop of pesticides either oh no !". Now he is also a doctor two days a week (a dual activity which has generally been manageable), and has named one of his two cuvées "La Minérale" which is delightful and well in tune with the spirit of the wine. Syrah and mourvedre (15hl/ha without green harvest, hurray for grass ! ) weave an inky velvet where concentration and freshness balance each other marvellously".
Web Site : www.terredevins.com


The Journal, UK
The Journal, UK : article 4th November 2009 : Read


The Sunderland Echo
The Sunderland Echo 5th novembre 2009 : Read
Wine Guides
Guide Hachette des Vins 2010
Selected

for Trois Terres 2007: "Graeme Angus is an English ex haematologist who reconverted in 2004 to become a winemaker. A promising reconversion, as is witnessed by this Grenache (predominance) and Syrah of a dark red garnet colour, with a powerful nose of cherries and raspberries, of spices and aromatic plants. Rich and well-rounded tannins complement a full and balanced palate. Perfect for drinking with bucatini a l'amatriciana".
Web Site : www.hachette-vins.com
Carnets du Sud, France 3 Television, 2008
Soon on the Site !


Radio Bleu Herault
Bertrand Milesi of the Baron Rouge selects and describes La Minérale
Soon on the Site !


Radio Pays d'Herault
Vitis Vinifera : Graeme Angus is interviewed by Mokhsine Diouf
Soon on the Site !