DOMAINE
Background - Vines - Soils - Winery
Background
Trois Terres came about after Graeme Angus had the irresistible urge to give up his stressful city life as a London doctor in 2000 aged 33, to go to Australia to learn winemaking and viticulture, and eventually settling in Octon in the French Languedoc, where he created the domaine in 2004, with his wife Alice.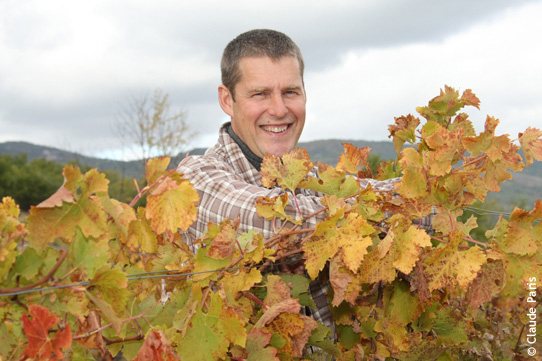 Graeme...
By blending a strong desire to protect the environment, some sound scientific New World oenological principles, and an affinity for manual labour, Trois Terres took shape first on a very small scale, growing little by little to reach its current and probably definitive size of just under 4 hectares.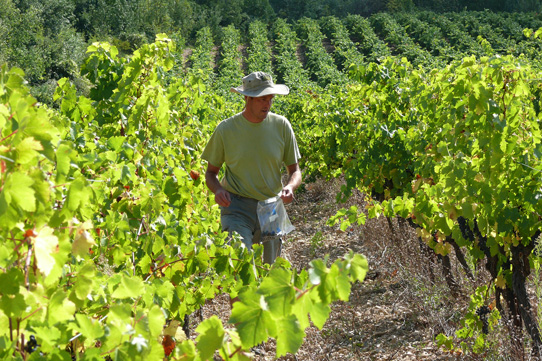 Taking a sample...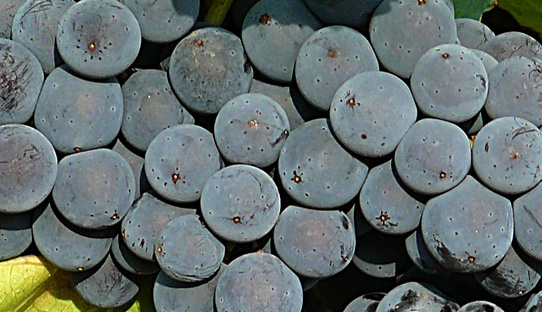 From the outset, the intention was to exploit the diverse geological characteristics of the poor and rocky soils and specific microclimates found in the Languedoc. Octon, with its red "ruffes" and basalt, is situated between the schist soils of Faugères and Cabrières, and the limestone and chalk soils of the Larzac and its slopes. The winery is central in Octon, with our vineyards principally in Cabrières and Saint Jean de la Blaquière – the tradeoff to this diversity is more time spent travelling between vineyards, but that is a small price to pay for such an interesting mix of terroirs.
We have been organic since the beginning, but only began the official certification process in 2009 – thus we will be allowed to stamp our bottles with the organic logo ("Agriculture Biologique") from 2012 onwards should we wish.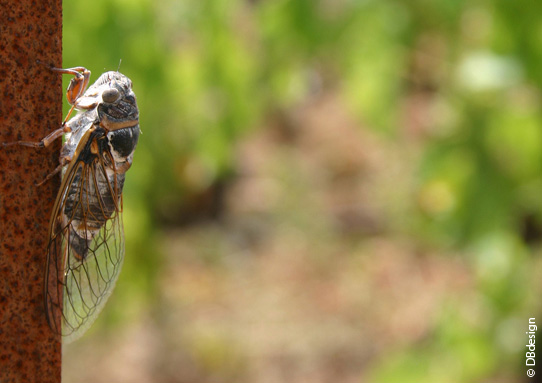 Cicada.
Vines
All but one of our current vineyards are AOC. We have syrah, grenache and cinsault in nine small, old plots, isolated in the "garrigue". Organic cultivation methods allow for a balanced mix of plant, insect and animal life (unlike the bare earth monoculture of traditional chemical viticulture still found in so much of the Languedoc). We accept slightly lower yields from our vines, in exchange for better quality grapes and most of all a minimal impact on the environment.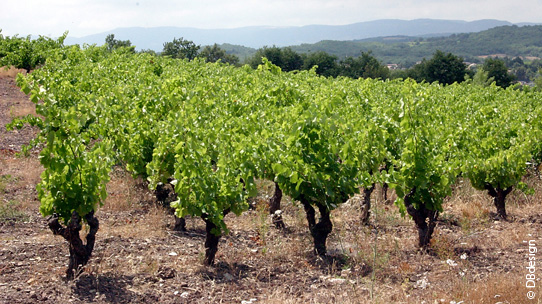 Grenache.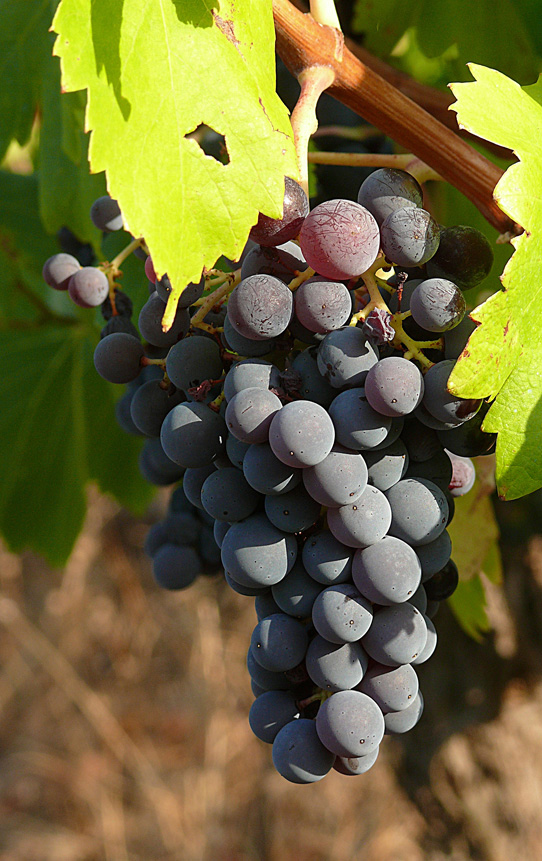 The work is practically all done by hand and on foot, wherever possible, and we use our tractor only to plough to keep weeds down. It is always thrilling to find birds' nests in the vines, to catch sight of hares, or to see the (sometimes less thrilling) signs that wild boar have been through to taste the grapes.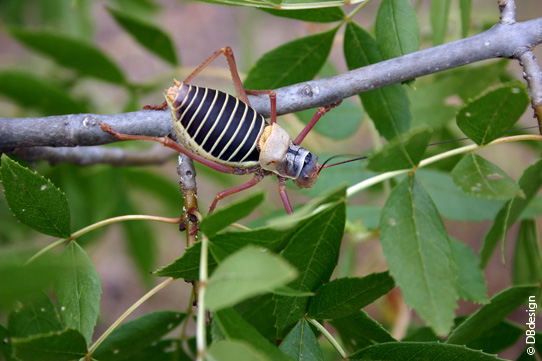 Ephippiger.
Low vigour and a principally dry climate mean we have few vine diseases to deal with, and therefore little need for treatment – we use minimal quantities of copper-sulphate. We fertilise the ground with small amounts of organic manure from time to time, as required to meet the vines' needs.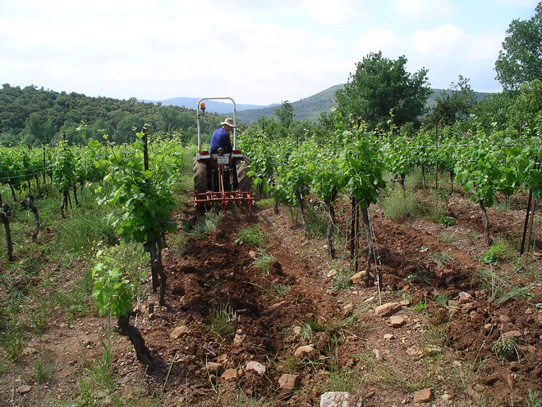 Ploughing the Syrah...
Soils
In Saint Jean de la Blaquière, the soils are schist/slate, and alluvial mixed limestone/chalk. In Cabrières, it is principally blonde multicoloured schist, and in Octon our vines are on alluvial volcanic soil.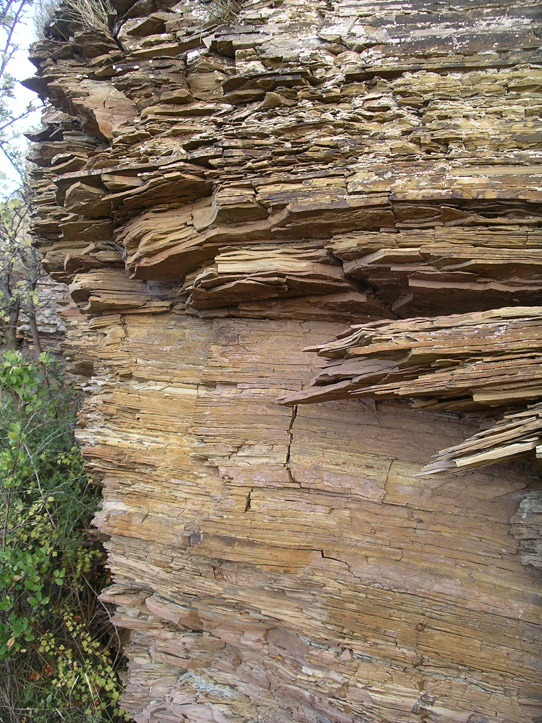 Schist cliff in St Jean de la Blaquière.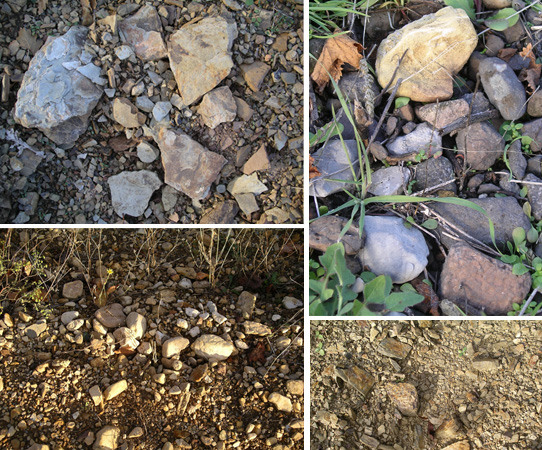 Different soils in our vines.
Winery
The winery is minimally but carefully equipped. We make only red wines, and only use traditional methods, with longish macerations depending on the grapes and the vintage. All work in the winery is carried out in conformity with organic regulations.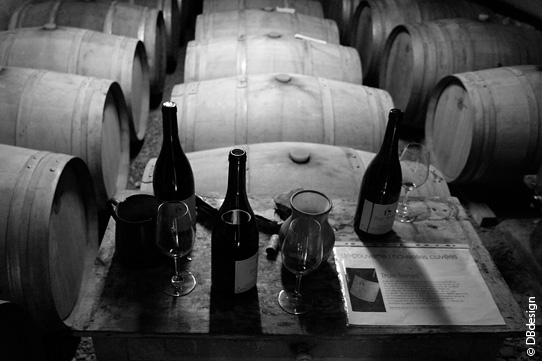 Barrel room.
After the grapes have fermented and macerated long enough to suit our wine style, they are gently pressed in a traditional vertical wooden caged hydraulic press. The wines are then aged in 2-to-4 year-old French oak barrels, for 8 to 16 months, depending on the wine.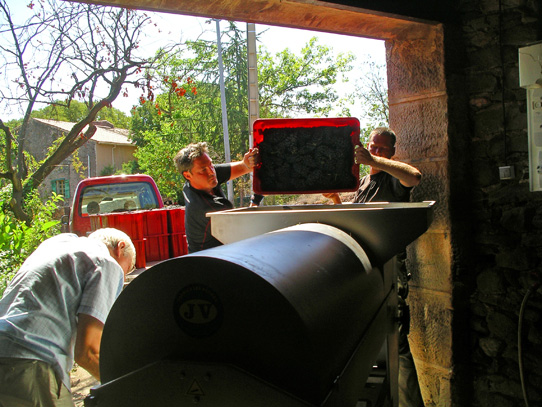 De-stemmer.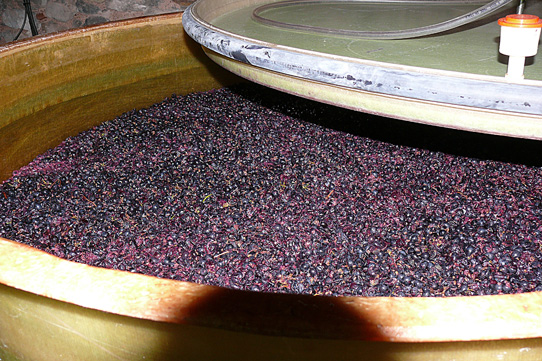 Fermentation.